---
---
---
Unlike FTP or Gopher, Netscape provides multiple browsing capabilities: you can download or view files, including pictures, navigate through gophers, read newsgroups, or establish a remote login with another computer via telnet. Note, however, that the send mail function is not allowed on public terminals. This guide explains the most basic features of Netscape.
---
Choose and open the Netscape icon (big capital N ). If an icon is not present but you are connected to the Novell network, you may double-click on Netscape.exe on the G: drive (using File Manager).
Upon start-up a default menu will appear. Netscape can be set to automatically call up any designated web site from the Options | Preferences dialog box. If you have a specific site to visit, and know its address, follow the directions below.
To choose a different site, click on Open , from the icon bar at the top, or click on File | Open Location. Note that Netscape and all other WWW browsers require navigation by selecting a Universal Resource Locator (URL). The URL is simply a way to address servers or databases, always preceded with the notation: http://<address> for WWW, or gopher://<address> for gopher (see Figure 1).
FIGURE 1

Some of the best web sites include (in alphabetical order):
http://nearnet.gnn.com/wic/newrescat.toc.html
http://www.charm.net/
http://www.clark.net/pub/lschank/home.html
http://www.einet.net/
http://www.yahoo.com/
Note: WWW browsers can be terribly slow if large graphical files are loaded. If speed is more important than graphics, click onOptions | Auto Load Images. Also, beware that URLs are case-sensitive.
---
Once you have selected a site, explore the menus. To view a directory, file or object, click on any highlighted words or images ("hot links"). To return to a previous page, click on the Back arrow on the top left menu bar. If Netscape "hangs" trying to connect to a site (i.e. nothing happens), click on the Stop sign on the top right menu bar to end the unsuccessful session and try another site. Netscape will retain in memory the last several sites navigated, but if you wish to return to a site found earlier, click on Go, View History from the top menu.
For searching the Internet, Netscape has built-in links to pages that will help identify interesting material. Simply click on the box below the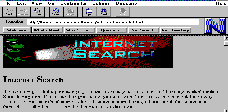 menu bar marked Net Search (see Figure 2), What's Cool or What's New.
FIGURE 2
---
Rather than type out the entire URL every time you wish to return to a favorite or useful site, let Netscape automate the process. When you find useful material at a site, click on Bookmarks, Add Bookmark (make sure the URL you want is the current page on screen). Later, select the View Bookmarks option. If you don't like the default name Netscape assigns your bookmark, then edit the name or address by selecting View Bookmarks , and clicking on the Edit button at the bottom of the screen (see Figure 3).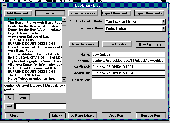 FIGURE 3
---
To save a file that interests you, click on File | Save As; file options include the default html format (tagged for web browsers) or text. To save as text, click on the Save File as Type scroll bar and select Plain text. To print a document, click on File | Print.
---
To quit Netscape and return to Program Manager, click on File | Exit.
Enjoy your WWW browsing experience!
---